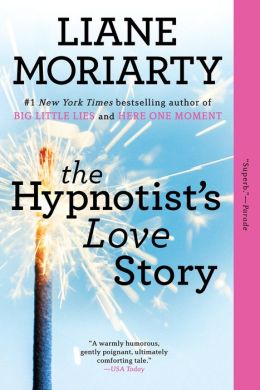 I have been reading Jaclyn Moriarty's books since Feeling Sorry for Celia came out in the early 2000s, and I always check her blog for updates. Moriarty's blog is as well written as her books, and reading a new post is almost like reading a short story, or a series of short stories, when she updates. I think it was through her blog that I found out that her sister, Liane Moriarty, writes for adults. Now I am always on the lookout for both a new Jaclyn Moriarty book, and a new Liane Moriarty book as well.
I haven't written about Liane Moriarty's book What Alice Forgot here, but I should have when it came out a year or so ago (it is so good). Instead, I picked up her newest publication, The Hypnotist's Love Story, last year, and I think it's more timely to write about it instead since it's a little more recent!
The Hypnotist's Love Story is about two women who have one man – Patrick – in common. Ellen O'Farrell is a hypnotherapist working out of the house that her grandparent's left her. She takes clients in a room that overlooks the ocean and makes a comfortable living that way. When she meets Patrick, she is surprised that she might have found a lasting and meaningful relationship. But when Patrick reveals that he has a stalker – his ex-girlfriend Saskia – rather than worrying about the posed threat, Ellen is instead intrigued. Saskia has been following Patrick for the years since he left her: following him down the highway in her car, reserving a table for herself in the restaurants where she knows he'll be, following him on foot from place to place. Patrick explains that Saskia is actually sitting in the restaurant with them on one of their dates (although Ellen doesn't see her). Thinking he is breaking up with her (instead of worrying about Saskia's presence in the restaurant), Ellen tries to talk herself out of what she at first believed was a very promising relationship (it lasts for the first few pages of the books, and is pretty funny in full. At one point Ellen even admits, "She didn't really like the name Patrick anyway. It was a namby-pamby sort of name. You could imagine your hairdresser being called Patrick. Also, his male friends apparently called him 'Scottie,' which was…well, perfectly acceptable really in that Aussie blokey way").
Saskia is the other character in this novel, and Moriarty frequently defers to her perspective as it alternates with Ellen's. Saskia has been posing as one of Ellen's patients since the day she found out Ellen was dating Patrick, although Ellen does not have any idea that she has been meeting the woman she is so curious about on a weekly basis (Saskia changes her name for the appointments, and as a reader, you are right there with Ellen as she tries to guess which one of her clients is Saskia). Moriarty's sympathy for Saskia is tempered by the way she outlines every action Saskia takes, rational or irrational (and mostly irrational). She becomes an incredibly interesting character, not because of what she does, but because Moriarty explains why she does it.
As well, meeting Patrick does not immediately bring about the happy-ending Ellen is looking for. Patrick's first wife died when their son, Jack, was born, and she is as much of a presence in his life as Ellen and Saskia are. Moriarty parallels these stories in order to show just how many participants there are in a relationship, as willing or as unwilling as they are. Liane Moriarty is an exceptional writer, and in The Hypnotist's Love Story she writes honestly and humorously about the relationships that Ellen, Saskia, and Patrick find themselves in.