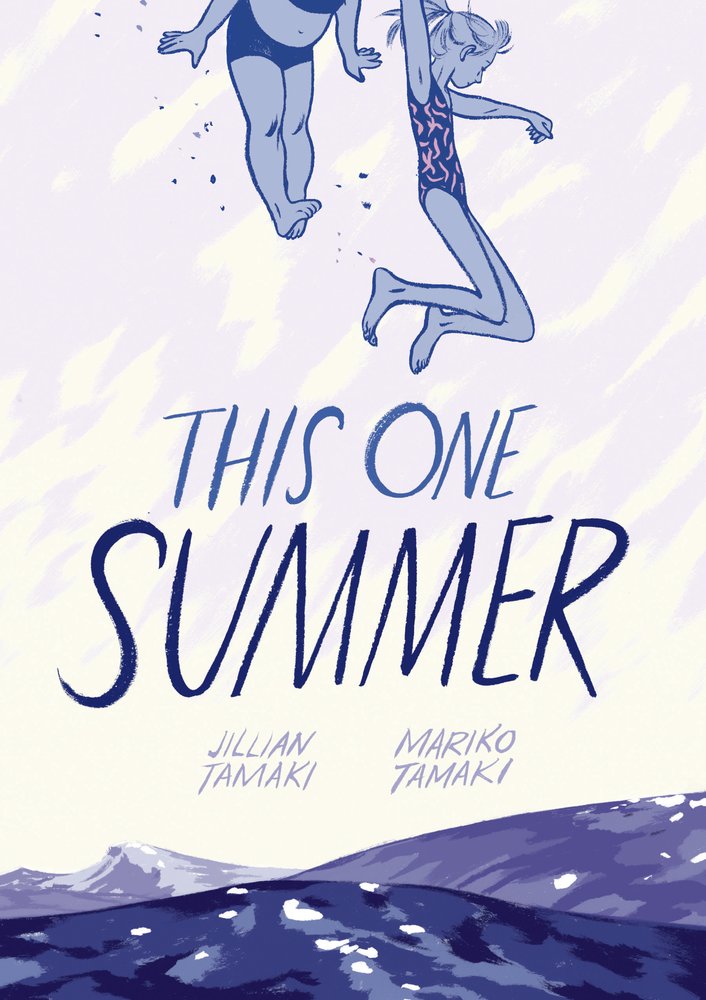 I first encountered Mariko Tamaki and Jillian Tamaki's collaborative work in 2009 through a course at Mount Allison University. Skim was on the book list, and was an excellent contemporary addition. I have been hearing about This One Summer all summer, but it wasn't until a few weeks ago that I finally picked up a copy for myself. I loved the format of the book, novel-sized and shelved in the YA Graphic Novels section. Skim was shaped more like a picture book which suited the double-paged illustrations. The blurbs on the back of This One Summer are amazing, with recommendations from YA greats Deb Caletti, Julie Halpern, and Stephane Perkins, and comic artists Hope Larson, Craig Thompson, Lucy Knisley, and Vera Brosgol. The blurbs certainly set the tone for the novel, a graphic coming of age story firmly located in the category of YA lit.
This One Summer starts with Rose's trip with her parents to Awago Beach, where they spend every summer. I loved reading this book right after Morgan Matson's Second Chance Summer, another book that focuses on summers away from home and spent at a lake cabin. A staple of Rose's summer home is Windy, her best friend out at the lake who is just a little bit younger than she is. Rose and Windy spend every summer together. This summer they rent horror movies from the corner store, Rose's way of impressing an older boy who works behind the counter.
While Rose and Windy seem largely untouched by tragedy - they still seem like normal kids hanging out during the summer - tragedy is all around them. Rose's mom miscarried in the ocean the summer before and struggles with coming to terms with the fact that their family of three might not grow larger. Conversely, one of the teenage girls who hangs around the corner store is pregnant, and the father of the baby (the boy behind the corner store counter) won't return her calls. Rose and Windy find themselves in the middle of other people's tragedy, and it's heartbreaking to watch them come to terms with issues that they previously didn't have to know about or understand.
One of my favorite aspects of This One Summer was the Canadiana scattered throughout, both in the text and the images. Rose's parents are drinking out of Tim Hortons cups on the way to Awago, a U of T bumper sticker is stuck to the back of the family car, there are Twizzlers for sale at the corner store. This One Summer is an amazing follow-up to Skim, a beautifully illustrated coming-of-age story that happens over the summer.