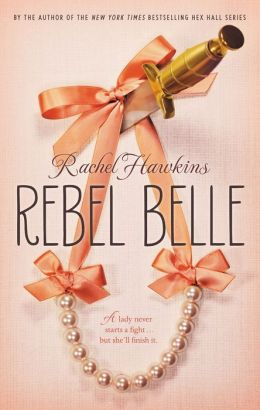 I've been eyeing Rebel Belle at the bookstore since it came out in hardcover last year, but didn't pick it up until last week when I saw it shelved next to its sequel, Miss Mayhem. It was a fantastic contemporary fantasy novel set in the Southern US, and was a hugely fun read.
Harper Price is a high school junior at Grove Academy in Pine Grove, Alabama. She's SGA president and leads most of the committees at her high school (including the Academic Dishonesty Committee), causing her arch nemesis David Stark to mockingly call her "Pres." The year before, her sister was killed in a drunk driving accident, but Harper has managed to keep spinning the complicated plates of her life, despite her own personal tragedy. But on the night of the Homecoming Dance, Harper's perfect life suddenly changes, even though she's attending with her boyfriend Ryan, her best friend Bee Franklin, and Bee's boyfriend Brandon. Everything seems like it's going according to plan. She arrives late, giving herself just enough just enough time to arrive in style and collect her Homecoming Queen crown. Ryan's there with her: "He lowered his head and kissed me, albeit pretty chastely. PDA is vile, and Ryan, being my Perfect Boyfriend, knows how I feel about it." But when she goes into the girls' bathroom to apply Bee's "Salmon Fantasy" lipgloss (instead of her regular, "Coral Shimmer"), janitor Mr. Hall passes on to Harper magical powers that turn her into a Paladin: a mythical warrior charged with protecting one person. Soon after, she's nearly killed by the school's history teacher, Dr. DuPont, who attacks her in the bathroom. She narrowly escapes by stabbing him with the point of her four-inch heels.
It's not until few days later that she figures out who she's sworn to protect. The aforementioned David Stark, who Harper happens to hate. She tries to avoid him, and when she can't, she can't keep her feelings to herself: "Then I realized who I'd bumped into , and immediately regretted my apologetic tone. If I'd known it was David Stark, I would have tried to hit him harder, or maybe stepped on his foot with the spiky heel of my new shoes for good measure." David is the ultimate hipster, with thick-framed black glasses, tight jeans, and oversized sweaters. The only reason she tries to stay on his almost-good side is because of his aunt, Saylor Stark,
And you especially needed to be polite to said douchebag when he happened to be the nephew of Saylor Stark, president of the Pine Grove Junior League; head of the Pine Grove Betterment Society; chairwoman of the Grove Academy School Board; and, more importantly, organizer of Pine Grove's Annual Cotillion.
Cotillion is next on Harper's calendar, and she doesn't have time in her schedule to pencil in training for how to be a Paladin, and how to save David's life if it comes down to that. Which it will. The final battle goes down during Cotillion, with Harper in her perfect dress, shoes, and makeup.
Rebel Belle was such a fun, Southern novel. I love Cotillion and Homecoming, and Harper was right at the center of both. I flew through the book on the elliptical at the gym, and couldn't put it down. Harper is an excellent character; Hawkins draws out the voice of the well-liked over-achiever perfectly. I'm looking forward to picking up the sequel soon!